Importing cars to Australia can be a tricky process. This is due to the country's strict laws, which attempt to discourage car importing as much as possible. But... there are exceptions for Classic Cars older than 25 years, "Personal Effects", "Reimportations" and "Specialist and Enthusiast Vehicle Scheme". When Taurus Logistics promises a seamless shipping experience, we mean it – and that means you don't need to worry about any red tape. See below to find out more about car shipping to Australia.
80% receive a quote in 30 seconds! More complex jobs will receive a response within 24 hours.
Costs to Consider When Importing a Car to Australia
The cost to ship a car to Australia can be difficult to determine as many shipping and logistics companies don't include all the charges and don't make it clear what the exclusions are. Many overseas freight forwarders just exclude ALL arrival charges so you have no idea what the actual cost is.
Our quotes are completely different!
Taurus will give you a detailed breakdown of all included charges and highlight what is excluded. It is important for you as the importer to have a detailed quote and not just a lump sum. Lump sums never including everything you need and give you no recourse should there be additional costs. Always insist on a detailed quote to become a pro at comparing shipping quotes.
Why are some costs excluded?
There are variables that we can't know at the time of quoting and also services that are outside our scope of works. i.e. on-road costs like registration. That's not part of the logistics process and not our area of expertise. Likewise, we don't know how clean your car is, or if it is infested with insects, what is its value for GST? So we can't include those costs.
What is the cost of Importing Cars to Australia
The shipping quote
Marine Insurance - Get a Marine Insurance Quote
All - duties, taxes, GST, and Government Charges - Calculate your taxes GST / Duty / LCT Calculator
Additional costs as a result of quarantine requirements e.g. cleaning, fumigation, vacuuming, re-inspection
On-road costs such as vehicle compliance, or Registration
Cost to ship car from NZ to Australia?
An average car from depot to depot costs about AUD2,500 (at time of writing), but to get a custom quote specific to your car and requirements in under 30 seconds, get a Instant Quote Now.
Importing cars from NZ to Australia is a very popular service and with the similarities in vehicle standards, it makes getting your car on the road a breeze.
Important
Please also check our comprehensive
Pre-Shipment Checklist
for importing cars to Australia
before
you buy, or commit to shipping as there are restrictions on importing cars in Australia.
Ports We Ship to in Australia
Taurus Logistics can ship your car to all of the main ports across Australia, including Brisbane, Sydney and Fremantle. From there, we will load your cargo onto a truck or car carrier and deliver it straight to your home. This makes for a more seamless shipping process, taking the hassle out of the equation.
Ports we ship to in Australia:
Adelaide
Brisbane
Fremantle (Perth)
Melbourne
Sydney (Port Kembla)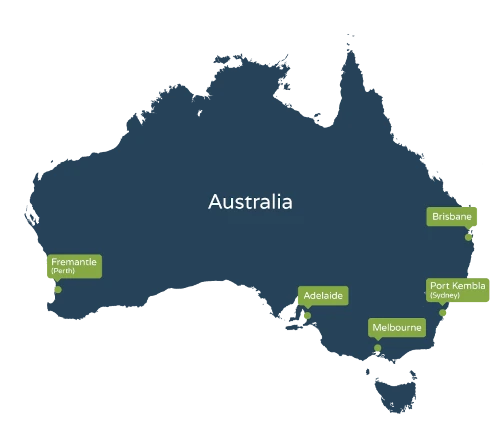 How Long Does It Take to Ship a Car?
While it's not possible to list the shipping times for every route Taurus Logistics offer, below are a few of our most popular routes. These are indicative transit times , and does not include all shipping lines, containers, or part container options. Please contact us to discuss container sailing dates, or for roll on roll off please refer to our RORO Sailing Schedule.
Australia to New Zealand – 10 days Approx.
New Zealand to Australia – 30 days Approx.
Europe to Australia – 45 days Approx.
USA to Australia – 50 days Approx.
Australia to Europe – 80 days Approx.
Australia to USA – 40 days Approx.
Vehicle Import Approval
When importing a car, motorhome or motorcycle into Australia, the first requirement is that you're an Australian permanent resident or plan to be. You can apply for your import permit online before you move to Australia, and your permit will be emailed to you.
There are five main categories for importing a car to Australia that cover most people's situation. There are more categories, but in most cases around 80% of people will use the Personal Effects Option, or as below.
Personal Effects Option
This option allows migrants settling in Australia or expatriate Australian citizens returning permanently to Australia after a long period overseas, to bring their personal vehicle with them as long as it has been owned for the qualifying 12 month period.
Read more
Reimportation Import Approvals
This option allows road vehicles originally sourced within Australia but subsequently exported to be re-imported.
Read more
Vehicles Manufactured more than 25 years ago
This option allows for the importation of road vehicles manufactured more than 25 years ago.
Read more
Specialist and Enthusiast Vehicle Register
Listing on the Register of Specialist and Enthusiast Vehicles means that vehicles can be imported into Australia under the Low Volume Vehicles Scheme and the Registered Automotive Workshop Scheme.
Read more
Race and Rally and Support Vehicles Option
This option allows for the importation of vehicles intended to be used for road vehicle rallies, closed circuit road vehicle racing and vehicles designed to support road vehicle racing or rallying.
Read more
What happens if my car fails Quarantine Inspection?
All used vehicles are inspected by the Department of Agriculture at time of import, and only after this inspection is the cleanliness condition known. Even a very well cleaned car by a professional cleaner can still fail because of the high standards required to enter Australia.
But there is no need to worry as we will arrange the quarantine inspection and if it needs cleaning we will handle all that for you too.
Allow AU$250 as an estimated to cover potential cleaning, and or vacuuming.
Do I have to pay GST, duty, or luxury tax when importing cars to Australia?
Yes, unfortunately. There is only one condition for GST / Duty exemption and that is returning Australian cars. i.e. cars that have been previously registered in Australia in your name and are now returning. There are no other tax exemptions even on used, personally owned cars. There are duty concessions for Vehicles over 30 years old that are Duty-free, and Luxury Car Tax(LCT) kicks in for cars valued at over AU$67,525.
Read more
How do I calculate my GST, Duty and LCT?
Calculating your GST, Duty, and LCT can be a bit complicated, so we have designed a handy online Import GST / Duty / LCT calculator.