Whether you're shipping your car over to New Zealand as a new immigrant, or for returning residence, car shipping to NZ is often a "no brainer" due to the many GST (Goods and Services Tax) and compliance exemptions available. At Taurus Logistics we're known for being flexible, so you won't need to worry about the red tape involved at NZ Customs and MPI – we'll even deliver to a Car Compliance Centre for you. Importing cars to New Zealand has never been easier!
80% receive a quote in 30 seconds! More complex jobs will receive a response within 24 hours.
Costs to Consider When Shipping a vehicle to New Zealand
Before committing to your car transport to New Zealand, ensure you have considered the total landed cost, not just the shipping. Shipping a car from Australia to New Zealand is our most popular service, especially for returning Kiwis or new immigrants due to the GST exemptions and Entry Certification exemptions available.
Many overseas freight forwarders do not care about what happens when your car arrives or what the costs are. We do! Having offices in Australia and New Zealand means you are dealing with one company that will take care of you.
Taurus will give you a detailed breakdown, not just a lump sum. We itemise all included charges and highlight what is excluded.
Why are some costs excluded?
There are variables that we can't know at the time of quoting and also services that are outside our scope of works. i.e. on-road costs like registration. That's not part of the logistics process and not our area of expertise. Likewise, we don't know how clean your car is, or if it is infested with insects, what is its value for GST? So we can't include those costs.
What are the costs to consider before importing a car to NZ?
Unless you are seasoned car importers, it is easy to overlook costs and blow out your budget. We are one of New Zealand's largest car importers of personal and classic cars and are happy to share our 35 years of experience with you.
Include in your Budget:
The shipping quote - Get an Instant Quote Online
Marine Insurance - Get a Marine Insurance Quote
All - duties, taxes, GST, and Government Charges - Calculate your taxes GST & Depreciation Calculator
Additional costs as a result of quarantine requirements e.g. cleaning, fumigation, vacuuming, re-inspection
On-road costs such as vehicle compliance, or Registration
If you are unsure or want to discuss any of these further please just give us a call.
Important
Before you ship your car, or consider buying one overseas, please also check our comprehensive
Pre-Shipment Checklist
for importing cars to New Zealand.
Ports We Ship to in New Zealand
Taurus Logistics ships cars to many of New Zealand's main ports, including Auckland, Christchurch, and Wellington. To make your importing experience as hassle-free as possible, we'll load your vehicle onto a specialised car transporter, and deliver it straight to your chosen compliance centre. We also offer car transport to anywhere in NZ, for out-of-town deliveries.
Ports we ship to in New Zealand:
Auckland
Christchurch (Lyttelton)
Dunedin (Port Chalmers)
Nelson
Wellington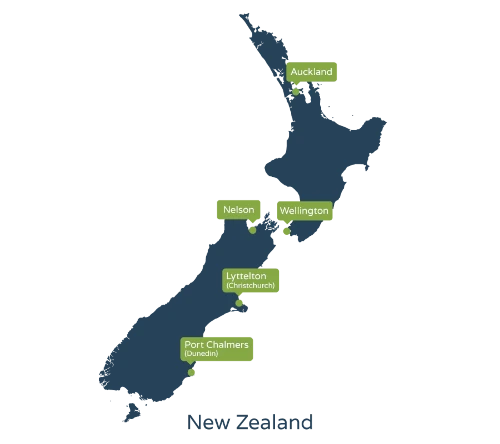 How Long Does It Take to Ship a Car?
While it's not possible to list the shipping times for every route Taurus Logistics offer, below are a few of our most popular routes. These are indicative transit times , and does not include all shipping lines, containers, or part container options. Please contact us to discuss container sailing dates, or for roll on roll off please refer to our RORO Sailing Schedule.
Australia to New Zealand – 10 days Approx.
New Zealand to Australia – 30 days Approx.
Europe to New Zealand – 50 days Approx.
USA to New Zealand – 45 days Approx.
New Zealand to Europe – 90 days Approx.
New Zealand to USA – 50 days Approx.
Can I take my car to New Zealand?
Yes, but first do your homework. There are no restrictions on importing classic cars into NZ, anyone can import a vehicle for off-road use or in a car collection. However, it pays to ensure your car meets the NZ compliance standards; even when shipping car to nz from Australia. Although the Australian and NZ standards are similar it does not guarantee your car will meet NZ standards.
There are exceptions to these rules for returning residence, and new immigrants which allows you to import your car to New Zealand as long as you have owned and used the car for more than 12 months and meet some other criteria.
Why does MPI stop and inspect clean cars?
All used vehicles are inspected by MPI on arrival even if they have a "Cleaning Certificate" or look clean. Only after this inspection is the cleanliness condition known.
Approx. 80% of all used cars fail inspection, but the cleaner you have your car the more likely it will pass and the lower the cleaning costs will be.
If your car does fail quarantine inspection, allow NZ$100-200 as an estimated to cover potential cleaning, and or vacuuming.
Do I have to pay GST on Imported Cars into NZ?
Yes, unless you are a new immigrant or returning resident and meet all the GST exempt criteria.
GST is payable at 15% on the landed value. This is calculated by; the cost of the vehicle, plus Insurance & Freight, otherwise known as the CIF price.
You can calculate how much GST you may need to pay using our handy GST & Depreciation Calculator. Depreciation rates vary depending on how long you have owned and used it for. There is no import duty on any vehicles being imported to New Zealand. Before using our GST Calculator you need to know how is my car valued for Customs.
Read more