With the massive selection of Motorbikes available on-line overseas, it makes sense to cut out the middle man and import your own motorbike. However, Australia is rather unique in its import restrictions, so before you get out your credit card to pay for your sparkly new Ducati , or Harley Davidson, do keep reading our guide to shipping motorbikes.
80% receive a quote in 30 seconds! More complex jobs will receive a response within 24 hours.
Costs to Consider When Shipping a Motorcycle to Australia
If you already own the motorbike and have done so for more than 12 months, then it's a no-brainer.
Pricing of motorbikes overseas is considerably cheaper than in Australia. So if you were to take the loss on selling the bike in the foreign country you're in, and purchase the same motorbike again on arrival in Australia, it would generally be more than the cost to ship the motorbike to Australia and pay Import GST.
Ports We Ship to in Australia
Taurus Logistics can ship your car to all the main ports across Australia, including Brisbane, Sydney and Fremantle. Crated motorcycles are available from our depots, or alternatively we can arrange straight to your home. This makes for a more seamless shipping process, taking the hassle out of the equation.
Ports we ship to in Australia:
Adelaide
Brisbane
Fremantle (Perth)
Melbourne
Sydney (Port Kembla)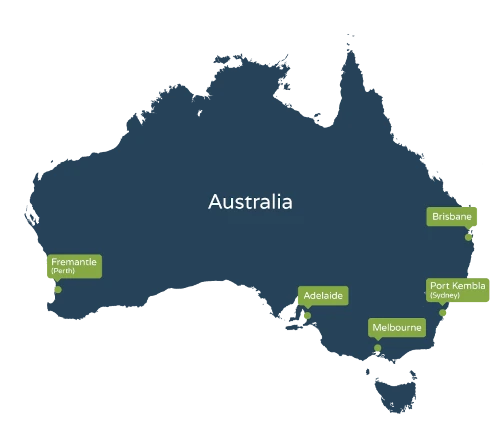 How Long Does It Take to Ship a Motorcycle?
While it's not possible to list the shipping times for every route Taurus Logistics offer, below are a few of our most popular routes. These are indicative transit times , and does not include all shipping lines, containers, or part container options. Please contact us to discuss container sailing dates, or for roll on roll off please refer to our RORO Sailing Schedule.
Australia to New Zealand – 10 days Approx.
New Zealand to Australia – 8 days Approx.
Europe to Australia – 45 days Approx.
USA to Australia – 25 days Approx.
Australia to Europe – 40 days Approx.
Australia to USA – 25 days Approx.
Can I import a motorcycle into australia?
Before you purchase your motorbike, DO NOT proceed unless you meet the following criteria. Otherwise you will not be able to get an import permit for the motorbike, and you will not be able to uplift form the port (under any circumstances).
Most of the motorcycle we ship are imported under the "Personal Effects option" or the "Manufactured over 25 years". Below are the main five categories but there are others for rear circumstances.
Personal Effects
This option allows migrants settling in Australia or expatriate Australian citizens returning permanently to Australia after a long period overseas, to bring their personal vehicle with them as long as it has been owned for the qualifying 12 month period.
Read more
Reimportation Import Approvals
This option allows road vehicles originally sourced within Australia but subsequently exported to be re-imported.
Read more
Motorcycles Manufactured more than 25 years ago
This option allows for the importation of road bikes manufactured more than 25 years ago.
Read more
Non-Road Motorcycles
A 'non-road vehicle' ('off-road motorbikes') refers to a vehicle not principally designed for use in transport and/or is not permitted to be driven on public roads. This is ideal for dirt bikes or quad bikes.
Read more
Race and Rally Bikes
This option allows for the importation of vehicles intended to be used for road vehicle rallies, closed circuit road vehicle racing and vehicles designed to support road vehicle racing or rallying.
Read more
Important
We strongly recommend reading our comprehensive
motorcycle Pre-Shipment Checklist
before
buying or shipping your motorcycle to Australia.