With the US dollar being so weak, there has never been a better time to consider importing boats to Australia. You'll find a huge range of boats from the USA, Europe, and New Zealand considerably cheaper than the local market. Even after you add the cost of boat transport to Australia, GST and Duty, you will still come out on top in most cases. Taurus logistics can make this easy for you, with our overseas agents who are all specialists in shipping boats.
80% receive a quote in 30 seconds! More complex jobs will receive a response within 24 hours.
Costs to Consider When Importing a Boat to Australia
You'll find many of the same boats that are available in Australia, are significantly cheaper in other markets overseas.
However, consideration needs to be taken of the total landed cost. Including shipping, Import GST, Duty and other costs such as Quarantine on arrival. This is where Taurus logistics can help. With over 35 years' experience, we can help guide you through this process and what the total costs will be?
Important
We recommend you read our comprehensive
Boat Shipping Pre-Shipment Checklist
before
you buy, or commit to shipping, as Australia does have some prerequisites.
Ports We Ship to in Australia
Taurus Logistics can ship your boat to all of the main ports across Australia, including Brisbane, Sydney and Fremantle. In most cases we arrange delivery by truck from port to your chosen marina, or you may prefer to collect from depot. Whilst it is possible to collect from port yourself, the security and health and safety requirements of the port, make this option a big hassle for you.
Ports we ship to in Australia:
Adelaide
Brisbane
Fremantle (Perth)
Melbourne
Sydney (Port Kembla)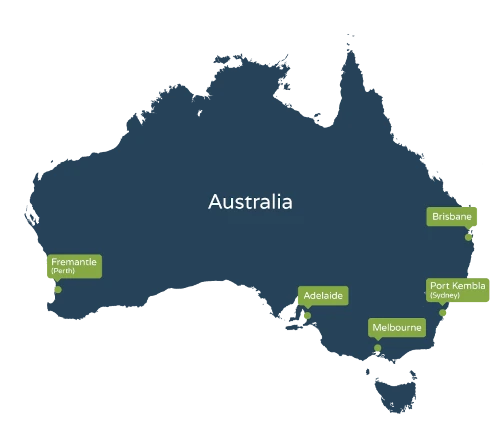 How Long Does It Take to Ship a Boat?
While it's not possible to list the shipping times for every route Taurus Logistics offer, below are a few of our most popular routes. These are indicative transit times , and does not include all shipping lines, containers, or part container options. Please contact us to discuss container sailing dates, or for roll on roll off please refer to our RORO Sailing Schedule.
Australia to New Zealand – 10 days Approx.
New Zealand to Australia – 30 days Approx.
Europe to Australia – 45 days Approx.
USA to Australia – 50 days Approx.
Australia to Europe – 80 days Approx.
Australia to USA – 40 days Approx.
Getting started with boat transport to Australia.
If you're interested in purchasing a boat from overseas then you need to take into consideration the condition, hours and age of the boat. Compare the local market's prices against international markets like the US, many websites auction boats and in most cases the boats are being sold by professional boat dealers or liquidation companies.
We strongly advise you avoid private boat sellers on sites like eBay, they almost always end up costing you more than you expected as a result of complications with the seller or boat.
I've found my boat, what now?
Once you have found the import boat you're interested in, try and get as much information about the boats dimensions as you can, especially the height. Anything on the boat that can be removed before shipping to reduce the dimensions should be considered before you get a shipping price. As an example if you remove the keel you can almost halve the shipping costs of most boats.
Once you have those dimensions get in touch and we can price it up for you so you can work out whether there's a benefit to importing the boat.
If your boat is on a trailer you must have an import permit for the trailer prior to it arriving in Australia, we recommend you get it before your boat leaves the departure country as it can be a big problem if your boat arrives and you still don't have the permit. We can apply for the trailer permit for you, or you can apply for this directly with the Australian Department of Infrastructure .
Apply for Permit
Tips before you import boats to Australia.
Quarantine is the biggest unknown cost when importing a boat, because it's impossible for us to know the condition of your boat when we quote for shipping. We allow in our quotes a single inspection charge, if as a result of the inspection a problem is found then any washing or fumigation is additional.
It's a good idea to have the seller make sure the boat is as clean as possible, if it is very dirty then often it won't be allowed on the ship, though we can take care of cleaning it at the port as an additional charge.
It's a good idea to have the seller make sure the boat is as clean as possible, if it is very dirty then often it won't be allowed on the ship, though we can take care of cleaning it at the port as an additional charge.
Used boats are inspected very harshly in Australia, and only a tiny percentage pass first time.