Boat shipping is very cost effective and well worth looking into if you are considering purchasing a non New Zealand made boat. New Zealand manufactures some great boats and yachts, but often the big-name brands like Searay, Azimut, Beneteau and Bayliner are just too expensive in the local market. The answer is to import a boat into New Zealand direct from overseas, using a specialist boat shipping company such as Taurus logistics, with over 35 years' experience.
80% receive a quote in 30 seconds! More complex jobs will receive a response within 24 hours.
Costs to Consider When Importing a Boat to New Zealand?
In our experience it's very cost effective, we're frequently told how much money our customers saved by buying their boat overseas and importing it into New Zealand.
The market in places like USA, Australia, and Europe are just huge compared with the boat market in New Zealand. It's quite common for people to upgrade their boats every second season, so the number of boats for sale in somewhere like Florida is phenomenal, and the prices reflect the glut on the market. Our Importing boat from USA service is our most popular, especially for powerboats.
Important
It's a good idea to read our
Pre-Shipment Checklist to New Zealand
to ensure your aware of all requirements before you purchase, or ship your boat.
Ports We Ship to in New Zealand
Taurus Logistics ship boats to many of New Zealand's main ports, including Auckland, Christchurch and Wellington. In most cases we arrange delivery by truck from port to your chosen marina, or you may prefer to collect from depot. It's not possible to collect from most ports yourself without a port escort(which we can arrange), due to security and health and safety requirements.
Ports we ship to in New Zealand:
Auckland
Christchurch (Lyttelton)
Dunedin (Port Chalmers)
Nelson
Wellington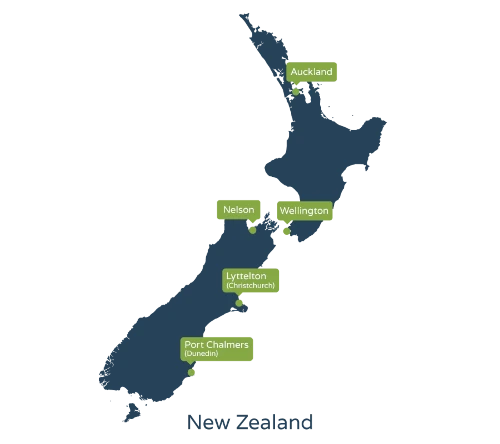 How Long Does It Take to Ship a Boat?
While it's not possible to list the shipping times for every route Taurus Logistics offer, below are a few of our most popular routes. These are indicative transit times , and does not include all shipping lines, containers, or part container options. Please contact us to discuss container sailing dates, or for roll on roll off please refer to our RORO Sailing Schedule.
Australia to New Zealand – 10 days Approx.
New Zealand to Australia – 30 days Approx.
Europe to New Zealand – 50 days Approx.
USA to New Zealand – 30 days Approx.
New Zealand to Europe – 90 days Approx.
New Zealand to USA – 50 days Approx.
I've found the boat, what now?
Once you've found a boat you're interested in, get the dimensions especially the height.
Anything on the boat that can be removed before shipping should be considered before you get a shipping price, if you remove the keel you can almost halve the shipping costs of most boats.
This is because when shipping boats the cost is calculated on the total cubic volume. i.e. The (length x width x height). Obviously if we are shipping boats in containers this does not apply, however the more that needs to be dismantled to fit in the container, the higher the load costs, and this can making container shipping uneconomic for the hassle involved.
My boat has a cradle
If your boat is on a cradle it should be steel or ISMP15 timber. If it's not, the cradle will be fumigated or destroyed at additional cost. So before considering your boat transport to New Zealand, check with us, as we can help.
Is there anything else I need to know about boat transport to New Zealand?
Ensure your boat is clean and free of any organic contamination including bilge water, this will avoid unforeseen costs on arrival due to MPI requirements.
You may be GST / Duty exempt if your boat is a trailer craft and part of your emigration to New Zealand, give us a call for more details.
It's a good idea to have the seller make sure the boat is as clean as possible, if it is very dirty then often it won't be allowed on the ship, though we can take care of cleaning it at the port as an additional charge.