When looking to source heavy machinery from overseas, and ship into New Zealand, there are a few very important factors to ensure you minimise costs on arrival, and avoid delays and expensive storage at port. Ourselves and our overseas partners are experienced experts in shipping heavy machinery, and can help you avoid costly pitfalls.
At Taurus Logistics we're known for being flexible, so you won't need to worry about the red tape involved at NZ Customs and MPI. With over 35 years' experience behind us, Taurus Logistics know how to deal with even the most difficult jobs.
80% receive a quote in 30 seconds! More complex jobs will receive a response within 24 hours.
Ports We Ship to in New Zealand
Taurus Logistics ship mchinery to many of New Zealand's main ports, including Auckland, Christchurch and Wellington. To make your shipping experience as hassle-free as possible, we'll handle all the Customs and Quarantine clearances and requirement on arrival.
Ports we ship to in New Zealand:
Auckland
Christchurch (Lyttelton)
Dunedin (Port Chalmers)
Nelson
Wellington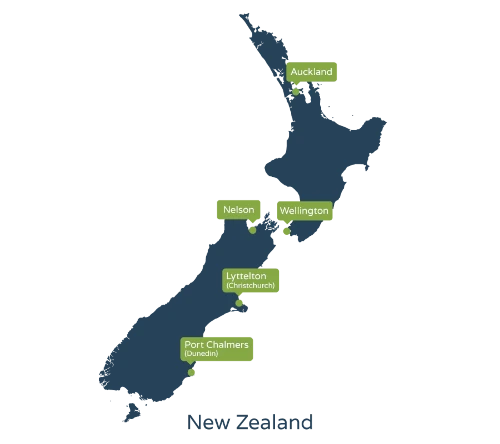 Transhipping to other ports in New Zealand.
In most cases if you are shipping machinery to any port in New Zealand other than Auckland, and sometimes Tauranga, it will be discharged in above ports first, and can't proceed to its final destination until MPI and Customs Cleared. It is therefore critical to consider above regarding MPI, as any hold up in Auckland will mean it will miss the connecting vessel, and storage at port is calculated daily and can be hundreds of dollars a day.
How Long Does It Take to Ship Machinery?
While it's not possible to list the shipping times for every route Taurus Logistics offer, below are a few of our most popular routes. These are indicative transit times , and does not include all shipping lines, containers, or part container options. Please contact us to discuss container sailing dates, or for roll on roll off please refer to our RORO Sailing Schedule.
Australia to New Zealand – 10 days Approx.
New Zealand to Australia – 30 days Approx.
Europe to New Zealand – 50 days Approx.
USA to New Zealand – 45 days Approx.
New Zealand to Europe – 90 days Approx.
New Zealand to USA – 50 days Approx.
Washing for MPI compliance.
By far the most important element when shipping any machinery to New Zealand (especially if it used) is it cleanliness. Shipping of used machinery, whether its Agricultural, Mining, or Construction, must be thoroughly water blasted and all soil and organic matter removed.
In many cases this will mean the removal of belly plates from the likes of bulldozers, harvester shoots, and any area which is not accessible to clean. Any dirt, rocks, or grain etc trapped in these areas will mean the machine will need disassembling. In most locations we can do this as part of our wash, and our teams are experienced in where this kind of contamination gets trapped.
However prevention is better than cure, and if possible you should try to get the seller to do this as part of the preparation for sale. If your buying machinery at auction, this is likely not possible so we can take care of the cleaning for you.
How to keep the shipping costs down.
New Zealand being a long way from the world, makes shipping proportionately higher than most other countries. So you need someone like Taurus Logistics with every trick available to make shipping your piece of machinery as cheap as possible. This can be as simple as removing a bucket or blade from your dozer, and shipping as two pieces. Or even removal of the EROPS and shipping the main unit RORO and the EROPS and C-frame on a flat rack. We will look at these shipping options for you and offer the best solution.